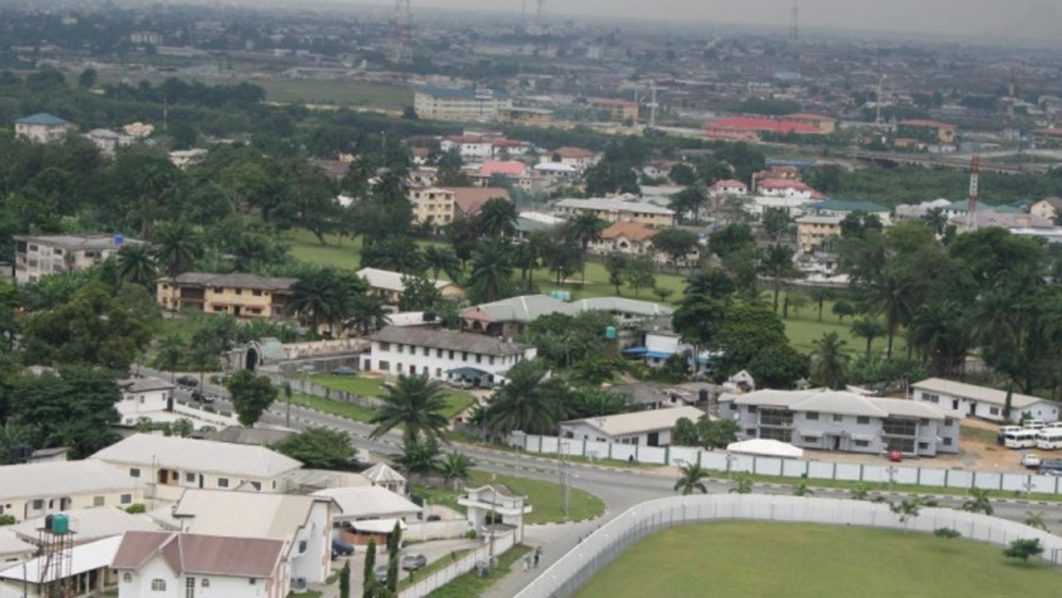 The Slogan
Treasure Base of the Nation

Date Of Creation
27 May 1967 (54 years ago)

Geography
Rivers State is a predominantly low-lying pluvial state in southern Nigeria, located in the eastern part of the Niger Delta on the oceanward extension of the Benue Trough. The inland part of the state consists of tropical rainforest, and towards the coast, the typical Niger Delta environment features many mangrove swamps. Rivers State has a total area of 11,077 km2 (4,277 sq mi), making it the 26th largest state in Nigeria. Surrounding states are Imo, Abia and Anambra to the north, Akwa Ibom to the east and Bayelsa, Delta to the west. On the south, it is bounded by the Atlantic Ocean. Its topography ranges from flat plains, with a network of rivers to tributaries

Brief History
Rivers State, named after the many rivers that border its territory, was part of the Oil Rivers Protectorate from 1885 till 1893 when it became part of the Niger Coast Protectorate. In 1900, the region was merged with the chartered territories of the Royal Niger Company to form the colony of Southern Nigeria. The state was formed in 1967 with the split of the Eastern Region of Nigeria. In 1996 the state lost territory to form Bayelsa State.
In the early days of the colonial period, several protection treaties were signed between various indigenous communities and the British colonial government. Between 1941 and 1952, agitation for the creation of Rivers province began with the formation of the Ijo Rivers People's League. By 1953, the Council of Rivers Chiefs was birthed as a replacement body for the League, the same year, another organization, the Calabar Ogoja Rivers (COR) State Movement became existent.
The Council of Rivers Chiefs was later renamed in 1954 to Rivers Chiefs and People's Congress and in 1956, the organization became known as the Rivers Chiefs People's Conference. Until 1958, hopes of an independent state resonated with the region and lingered consistently in the minds of its natives. During the constitutional conference that year, the country's nationhood was affirmed while an agreement was reached on some measures to mitigate the fears of the ethnic minorities in the area. Around this time, the COR State Movement had broken away to press their own case. Thereafter, the British launched a commission led by Sir Henry Willink to look into the misgivings of these autochthons. The Willink Commission initiated the conception of the Niger Delta Development Board (NDDB). The purpose was to tackle the problems of underdevelopment, however, this failed to rise to the expectations of the masses. After much discontent, some of the people attempted to take the extralegal route to achieve their goals.
In February 1966, Isaac Boro, Sam Owonaro and Nottingham Dick alongside their supporters proclaimed a "Delta People's Republic". The rebellion persisted for twelve days but was resisted by the Federal and the old Eastern Nigeria government. On 27 May 1967, under the administration of General Yakubu Gowon, Decree No. 14 was issued, allowing the creation of Rivers State. From then on, complaints about political marginalisation, environmental degradation and economic pauperisation remained among the Ijaw groups, such that a separate Bayelsa State was carved out of Rivers State by the military government of Sani Abacha on 1 October 1996 and Omuma Local Government Area of Rivers State was created on same day to include communities such as Umuru in Ofeh.

The Local Government area
Port Harcourt
Obio-Akpor
Okrika
Ogu–Bolo
Eleme
Tai
Gokana
Khana
Oyigbo
Opobo–Nkoro
Andoni
Bonny
Degema
Asari-Toru
Akuku-Toru
Abua–Odual
Ahoada West
Ahoada East
Ogba–Egbema–Ndoni
Emohua
Ikwerre
Etche
Omuma

The Governor
Nyesom Wike

The Deputy governor
Ipalibo Banigo

The Senators
E: George Thompson Sekibo (PDP)
SE: Barry Mpigi (PDP)
W: Betty Apiafi (PDP)

Representatives
Constituency
Member
Abua/Odua/Ahoada East
Solomon Bob
PDP
Ahoada West/Ogba/Egbema/Ndoni
Uchechukwu Nnam-Obi
PDP
Akuku Toru/Asari Toru
Boma Goodhead
PDP
Akuku Toru/Asari Toru
Awaji-inombek Abiante
PDP
Degema/Bonny
Farah Dagogo
PDP
Eleme/Oyigbo/Tai
Chisom Dike
APC
Etche/Omuma
Ephraim Nwuzi
APC
Ikwerre/Emoha
Boniface S. Emerengwa
PDP
Khana/Gokana
Dum Dekor
PDP
Obio/Akpor
Kingsley Chinda
PDP
Okrika/Ogu/Bolo
Gogo Bright Tamuno
PDP
Port Harcourt I
Kenneth Chikere
PDP
Port Harcourt II
Chinyere Igwe
PDP

The Website

Major Cities
Abalama
Abonnema
Ahoada
Ataba
Bane
Bonny
Bori
Bodo
Buguma
Degema Town
Eberi
Elele
Emohua
Igrita
Igwuruta
Nkoro
Odiabidi
Okehi
Okobie
Okoloma
Okomoko
Okrika
Omoku
Onne
Opobo
Oyigbo
Port Harcourt (capital and largest city)
Rumuokoro
Umuagbai
Umuru
Usokun-Degema

Prominent Places
 Port Harcourt International Airport
 Port Harcourt Air Force Base
Port of Onne

Mineral Resources
The state is famous for its vast reserves of crude oil and natural gas. just because It was perhaps the richest and most important section of the African zone of the British Empire. Rivers State has two major oil refineries, two major seaports, airports, and various industrial estates spread across the land. More than 60% of the country's output of crude oil is produced in the state. Other natural resources found within its boundaries are silica sand, glass sand and clay

The population
Population (2006 Census)
• Total 5,198,716

Postal Code
500001

Culture and tourism
Finima Nature Park

Notable People

Languages
| Aboriginal language dialects | No. of speakers |
| --- | --- |
| Abua | 25,000 |
| Agbirigba | 30 |
| Baan | 50,000 |
| Biseni | 4,800 |
| Defaka | 200 |
| Degema | 30,000 |
| Ekpeye | 30,000 |
| Eleme | 150,000 |
| Engenni | 20,000 |
| Ijaw | 200,000 |
| Ikwerre | 200,000 |
| Kalabari | 570,000 |
| Kugbo | 2,000 |
| Nkoroo | 4,600 |
| O'chi'chi' | — |
| Obolo | 250,000 |
| Obulom | 3,420 |
| Odual | 18,000 |
| Ogba | 80,000 |
| Ogbogolo | 10,000 |
| Ogbronuagum | 12,000 |
| Khana | 500,000 |
| Okodia | 3,600 |
| Oruma | 5,000 |
| Tee | 100,000 |
| Ukwuani-Aboh-Ndoni | 50,000 |

Institutions
University of Port Harcourt,Choba.
Rivers State University.
School of Health Technology, Port Harcourt.
Federal College of Education (Technical), Omoku.
Ken Saro Wiwa Polytechnic at Bori.
Ignatius Ajuru University at Rumuolumeni, Nkpolu Oroworukwo and Ndele.
School of Nursing and Midwifery at Rumueme, Port Harcourt.
Port Harcourt Polytechnic later renamed Elechi Amadi Polytechnic after the scholar Elechi Amadi
Eastern Polytechnic
Rivers State Polytechnic
PAMO University of Medical Sciences, Port Harcourt