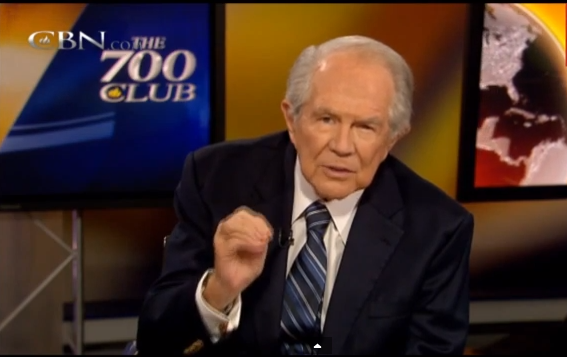 The 700 Club is the flagship television program of the Christian Broadcasting Network, airing each weekday in syndication throughout the United States and available worldwide on CBN.com. The news magazine program features live guests, daily news, contemporary music, testimonies, and Christian ministry. Celebrities and other guests are often interviewed, and Christian lifestyle issues are presented. The program additionally features major world news stories plus in-depth investigative reporting by the CBN News team.
"The 700 Club" is a talk show featuring guests, news and spiritual stories from a Christian perspective. News stories are often related to Bible passages. Fundamentalist preacher and one-time presidential candidate Pat Robertson hosts this long-running religious show. The 700 Club has been in production since 1 April 1966
"The 700 Club" is the longest-running U.S. cable television series by number of seasons (36).
It is hosted by Pat Robertson, Gordon P. Robertson, Terry Meeuwsen, and Wendy Griffith. Previous co-hosts include Ben Kinchlow (1975–88, 1992–96), Sheila Walsh (1987–92), Danuta Rylko Soderman (1983–87), Kristi Watts (1999–2013), and Lisa Ryan.
To Join 700 Club Nigeria, Please click here