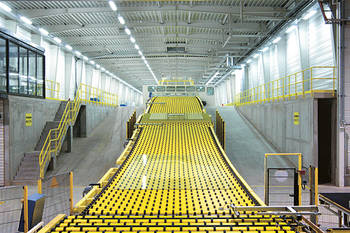 Looking for the top glass companies in Nigeria, We have list of them, Screw down to see for your self
STEEPLUM INC
2 Aduloju Close off Association Avenue, Ojota Lagos, Lagos, Lagos
safety glass, glass, quality aluminium, winows, doors, curltain walls, space management, wall cladding, frame-less etc
Crane Solutions Global Services Company Ltd.
62, Demurin Road, Ketu,, Lagos, Lagos
CRANE SOLUTIONS GLOBAL SERVICES COMPANY LTD. We are suppliers of spare-parts for; Cranes, Excavators, Backhoe Loaders, Telescopic Handlers, Motor Graders, Road Reclaimers, Wheel Loaders & Forklifts
Palace Aluminium Systems Limited
2,Ogetetedo Street, Aluminium Village, Dopemu, Ikeja, Lagos
Welcome to Palace Aluminium Systems Limited One of EBM SYSTEMS NIGERIA LTD leading distributors & Fabricators in Nigeria. We specialise in installation of aluminium and glass systems (windows, doors, …
Clayarts Limited
10A Ademola Adetokunbo Street, Victoria Island
We represent Clayarts Nigeria Limited. Incorporated in 1992 under the laws of the Federal Republic of Nigeria. At Clayarts we have discovered the secrets of water as a magical and prefered factor in d…
Crane Solutions Global Services Company Ltd.
62, Demurin Road, Suite 20 Tinulas Shopping Complex Ketu, Lagos., Lagos
We provide genuine OEM spare parts on the following brands; Grove Cranes, Link-belt Cranes, Cummins Parts, Terex Crane, Liebher Crane, Demag Crane, PPM Crane, Komatsu Machines, National Crane, Ace Cra…
Timeless steel ltd
No 34 Isaac John Street, Igbobi-Fadeyi- Lagos., Lagos, Lagos
Timeless steel is a well-established, specialist supplier of stainless steel & glass balustrading systems, we offer a high level of full service and support to main contractors, from initial design de…
UTAL Building Products Limited
3 Obasa Street, Off Oba Akran, Ikeja, Lagos State, Ikeja, Lagos
UTAL BUILDING PRODUCTS LIMITED UTAL Building Products Ltd (formerly UTC Aluminum Ltd) is a manufacturing outfit engaged in the design, fabrication and installation of building components
City Contracting & Management Limited
8 Aromire Road, Ikoyi, P.O.Box 53986, Falomo, Ikoyi, Lagos, Abia
City Contracting is a young dynamic company in construction and refurbishment. We have a high standard of work and offer the best quality to our clients.
GIL Automations and Control Services Nigeria Limited
6 Nduwe Wike Avenue, Off Eleparanwon Road, Ada George Area, Port Harcourt, Rivers
GIL Automation is a systems integration company with core expertise in instrumentation, control, electrical, SCADA, Fire&Gas System,Process automation across West Africa.
Eclipse Systems International Limited
Block 4 (2nd Floor Shops 27/28A & B) Agric Market, Badagry Expressway, Coker, Lagos, Abia
Epic Dynamics Plc
Plot C40, Alakoso Avenue, New Amuwo- Odofin Industrial Estate, P.M.B. 1047, Apapa, Lagos, Abia
Filade Marble Works Limited
Plot 10, Block E, State Hospital Road, Off Ring Road, G.P.O. Box 4489, Ibadan, Oyo
General Refractories Limited
13 Akinhanmi Street, By AP Filling Station, Off Western Avenue, Surulere, P.O. Box 5902, Festac Town, 
Lagos
Ibalex Nigeria Limited
Plot 407/413, Apapa-Oshodi Express Way, Illasamaja, P.O.Box 323, Apapa, Lagos, Abia
Zematech Nigeria Limited
2nd Floor, Royal Building, Plot 10/11, Amuwo-Odofin Industrial Layout, Apapa-Oshodi Expressway, Opposite Fatgbems Filling Station, Mile 2, P.M.B. 057, Festac Town, Lagos
Crystal Glass Nigeria Limited
Plot C, 62 Crystal Glass Close, Amuwo Odofin Industrial Estate, Lagos
La Roche Equipment Nigeria Limited
Plot 64A, Amuwo-Odofin Commercial Scheme, Along Oshodi-Apapa Expressway, Amuwo-Odofin, P.O. Box 3344, Apapa, Lagos, Abia