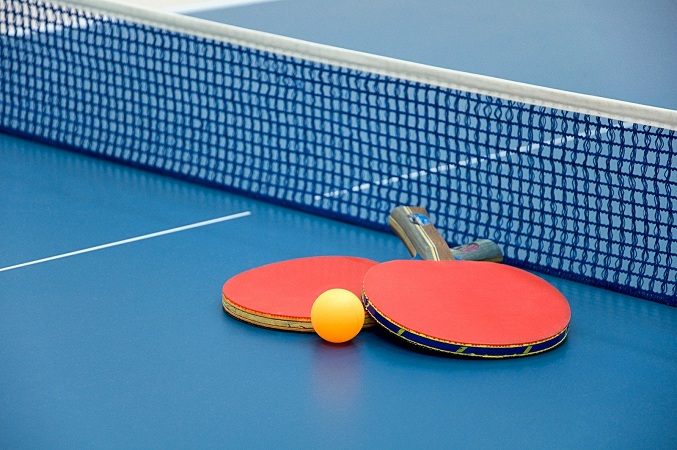 Table tennis, also known as ping pong, is a sport in which two or four players hit a lightweight ball back and forth across a table using small bats.
The game takes place on a hard table divided by a net. Except for the initial serve, the rules are generally as follows: players must allow a ball played toward them to bounce one time on their side of the table, and must return it so that it bounces on the opposite side at least once.
A point is scored when a player fails to return the ball within the rules. Play is fast and demands quick reactions. Spinning the ball alters its trajectory and limits an opponent's options, giving the hitter a great advantage.
Table tennis is governed by the worldwide organization International Table Tennis Federation (ITTF), founded in 1926. ITTF currently includes 226 member associations.
History Of Nigeria Tennis Federation
Tennis was introduced to Nigeria around 1904. However, it gained prominence in 1920 when local tournaments were played between Clubs, Government department and later with neighboring Colonial Countries like Ghana and Togo.
The year 1927 witnessed a land mark in the history of Nigeria Tennis. The event was the maiden edition of a Country – Wide tournament sponsored by the Slazenger Sports Company and the venue was Lagos Tennis Club Onikan. The recorded winner of the tournament was Mr. Galvo.
Since the game was introduced by the Europeans, it was no surprise that they continuously dominated the competition for some ten years until the pair of Etim B. Ironbar and Effom Sprang a surprise to emerged Doubles Champions in 1938 and 1940.
In the Men's Single Sector, Europeans Dominants continued until 1949 when Herbert B. Oranye emerged as the Men's Singles Champions. He also paired Walter C. Obianwu to win the Men's Double the same year. From this time, Nigerian rapidly took over complete control and the winning streak continued with occasional pockets of European victories.
The late 50's witnessed the in flux of Senior players into the tennis arena. Consequently, series of Junior and School Championships were organized which saw the emergence of such names like Thompson Onibokun, Late Charles Itabor, Christian Ofodili, Late Lawrence Awopegba, Emmanuel Edu, Koffi Fidelis, Mrs. Elizabeth Ekong, and host of others.
Some later graduated to the Senior cadre, others like Odizor, Imonitie, Mmoh, Bulus Hussaini, Ogunrinde, Kehinde Ajayi, Segun Balogun, Godwin Emwh, P. Obi, C. Duke, K. Austine, I. Philipe etc
Nigeria has been taking part in the Davis Cup Tournament but re-entered 1985 after withdrawing for several years as a protest against apartheid regime in South Africa, till date Nigeria has been participating in the All Africa Games and other International Tournaments.