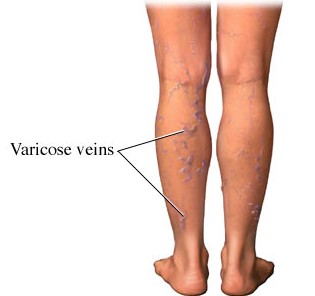 Varicose veins are swollen and enlarged veins that usually occur on the legs and feet. They may be blue or dark purple, and are often lumpy, bulging or twisted in appearance.
Other symptoms include: aching, heavy and uncomfortable legs.
Varicose veins can be more than just unsightly. They can cause pain, swelling, restless leg syndrome and tired, aching legs – symptoms that can directly affect daily activities and quality of life. Untreated varicose veins can be dangerous because the blood that is pooling in these veins can clot.
Pregnant women are more susceptible to varicose veins. People who are overweight also have an increased risk of varicose veins.
20 Reasons 'Why Men Die Earlier Than Women'
Prevention/How To Stop Varicose Veins
There's no way to completely prevent varicose veins. But improving your circulation and muscle tone may reduce your risk of developing varicose veins or getting additional ones. The same measures you can take to treat the discomfort from varicose veins at home can help prevent varicose veins, including:
Exercising
Watching your weight
Eating a high-fiber, low-salt diet
Avoiding high heels and tight hosiery
Elevating your legs
Changing your sitting or standing position regularly
Treatment Of Varicose Veins
How To Treat Varicose Veins
If the patient has no symptoms or discomfort and is not bothered by the sight of the varicose veins, treatment might not be necessary. However, if there are symptoms, treatment may be required to reduce pain or discomfort, address complications, such as leg ulcers, skin discoloration, or swelling.
Some patients may also want treatment for cosmetic reasons – they want to get rid of the "ugly" varicose veins.
You can follow the details below on how to treat Varicose Veins
Surgery
If varicose veins are large, they may need to be removed surgically. This is usually done under general anesthetic. In most cases, the patient can go home the same day – if surgery is required on both legs, they may need to spend one night in hospital.
Laser treatments are often used to close off smaller veins, and also spider veins. Strong bursts of light are applied to the vein, which gradually fades and disappears.
Ligation and stripping
Two incisions are made, one near the patient's groin at the top of the target vein, and the other is made further down the leg, either at the ankle or knee. The top of the vein is tied up and sealed. A thin, flexible wire is threaded through the bottom of the vein and then pulled out, taking the vein with it.
This procedure does not usually require a hospital stay. Ligation and stripping can sometimes result in bruising, bleeding, and pain. In extremely rare occasions, there may be deep vein thrombosis.
After surgery, most patients will need 1-3 weeks to recover before going back to work and other normal duties. During recovery time, compression stockings are worn.
Sclerotherapy
A chemical is injected into small and medium-sized varicose veins, which scars and closes them. A few weeks later, they should fade. A vein may need to be injected more than once.
Radiofrequency ablation
A small incision is made either above or below the knee, and with the help of an ultrasound scan; a narrow tube (catheter) is threaded into the vein.
The doctor inserts a probe into the catheter, which emits radiofrequency energy. The radiofrequency energy heats up the vein, causing its walls to collapse, effectively closing it and sealing it shut. This procedure is preferred for larger varicose veins. Radiofrequency ablation is usually done with a local anesthetic.
Endovenous laser treatment
A catheter is inserted into the patient's vein. A small laser is threaded through the catheter and positioned at the top of the target vein; it delivers short energy bursts that heat up the vein, sealing it shut.
With the aid of an ultrasound scan, the doctor threads the laser all the way up the vein, gradually burning and sealing all of it. This procedure is done under local anesthetic. There may be some nerve injury, which is usually brief.
Transilluminated powered phlebectomy
An endoscopic transilluminator (special light) is threaded through an incision under the skin so that the doctor can see which veins need to be taken out. The target veins are cut and removed with a suction device through the incision.
A general or local anesthetic may be used for this procedure. There may be some bleeding and bruising after the operation.
All Health And Medical Companies In Nigeria